---
Decorative aggregates and gravels are beautiful, screened stone chippings that include Granite, Limestone, Quartz and Marble.
Gravels vary considerably in size and composition and for the best results, it's important to choose a chipping which is suitable for the project you have planned. 
We offer the widest range of quality garden gravel in the UK, suitable for a variety of landscaping uses – including driveways, paths, rockeries, garden ponds and mulch.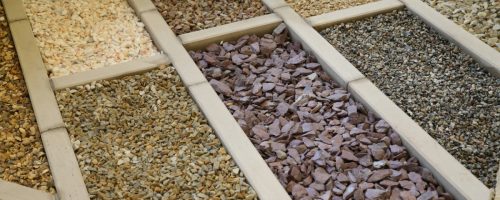 COTSWOLD
CHIPPINGS
Also known as Cotswold Buff Chippings, these stunning decorative Cotswold Stone Chippings are the perfect way to brighten your outdoor space. Both versatile and durable, these stone chippings are ideal for almost any landscaping job, including driveways, footpaths, borders, plant pot toppings, water features and lining patios.
GOLDEN
GRAVEL
One of our most popular and
versatile aggregates, Golden Gravel,
is a stunning multi-coloured gravel comprised of yellow, cream, and
brown stones. Easy to walk on and
eye-catching, Golden Gravel is a
popular aggregate for pathways, driveways and borders.
DOVE
GREY
Sometimes referred to as Derbyshire Peakstone, our naturally quarried
Dove Grey Chippings are popular
thanks to the stylish grey hue. Due
to it being hard wearing and durable,
Dove Grey is the ideal aggregate for driveways and more extensive landscaping projects.
BLACK
BASALT
Sometimes referred to as Black Granite, Black Basalt is a hard-wearing aggregate, making it a popular choice for driveways.
This stone offers a real 'wow factor' thanks to its striking charcoal colour and is the perfect choice for adding a contemporary look and feel to any outdoor space.
GREEN
GRANITE
This stunning Green Granite is also
known as Welsh Green, this attractive Green Granite is both elegant and
eye-catching thanks to its bluey-green hues. Most commonly used for bordering, pathways, driveways and flowerbeds,
this beautiful stone is also fish-friendly,
making it a popular choice for water features, rockeries, and pond projects.
RIVER WASHED GRAVEL
Featuring a mixture of browns, reds, whites and bluey greys, this stunning decorative aggregate can be used to instantly transform driveways, paths, patios, flowerbeds, borders, ponds, and water features.
This is also fish-friendly once washed.
GREEN
SLATE
This attractive decorative stone can be used for various garden projects, including lining patios and filling in borders. It's great for retaining soil moisture in the summer and provides insulation in the winter. This stunning stone has an ever so slight green colour which brightens when wet.
BLUE
SLATE
Add contrast to your outdoor space by using our striking blue slate to fill in pathways, line patios, and fill borders.
Blue slate is also an ideal aggregate for topping flowerbeds to hold in moisture and insulate your plants.
PLUM
SLATE
Create a bold, contemporary look with our stunning plum slate.
It's great for filling in borders and flowerbeds and creating elegant
rockeries and water features as it is fish friendly.